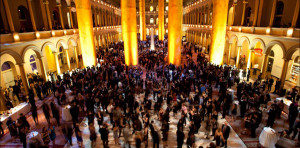 There are many factors that go into creating the perfect event. From weddings, corporate and milestone events, fundraisers, galas and fashion shows, lighting is the one element that universally transforms the look and feel of every event. With such a wide range of influence, a proper lighting design is crucial to enhance your venue, produce the best photographs, and keep your guests and details out of the dark.
From decorative to functional, a qualified lighting designer can best guide you to use the proper lighting to enhance your space and fully utilize every area to its highest potential, achieving your desired ambiance.
Creative use of uplighting and color washes, pin spots, projections, and string lighting are among the most popular lighting services. You can change the entire look of a venue with uplighting, the most cost-effective way to envelop a space in ambient light. Keeping important details such as centerpieces out of the dark with pin spots or highlighting dance floors and blank areas with a pattern or monogram projection are great ways to make an event feel extraordinary. Outdoor events with a canopy of market string lights feel intimate while being functionally lit with a great decor element.
Just as other vendors are chosen based on their specific knowledge of cuisine, florals, photography or music, lighting is a specialty service unique to each event. Enlisting a lighting company allows you to achieve your desired look with the confidence that you are getting the best design, proper power distribution, and well-versed advice, making your event as special as it can and should be.